Scribblenauts Unlimited Truly is Limitless - Preview
VGChartz Staff
, posted on 08 June 2012
/ 3,224 Views
Scribblenauts is a series that has had its ups and downs, but always a strong concept. You are a guy with a funky rooster hat named Maxwell and you have a magic notepad that lets you summon pretty much anything you want into the real world. Abe Lincoln? Done. Zombie? Done. Oh look they're fighting… now Abe Lincoln is a zombie that is trying to attack me. Guess I'll summon a flying pig and ride him out of here.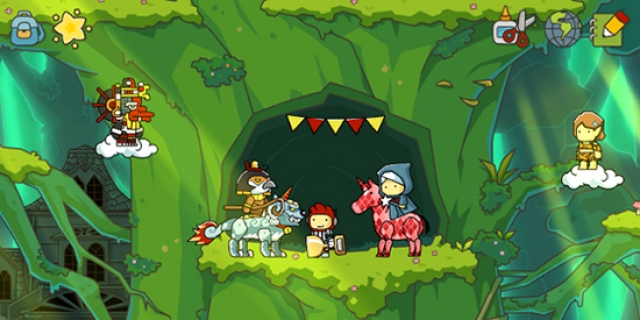 Maxwell just won the "Most normal costume" award
Scribblenauts Unlimited looks to increase the concept by a few thousand times. Now you can not only summon whatever you want, but you can customize items that you want to appear in almost any way you want. Basically they have given us the developer's toolkit for item creation and it is way more robust that you might imagine.
In my playthrough I was able to take a simple crate and add the head of a pig, the legs of a frog, the tail of a dragon, and a tank turret. You have access to their entire item library (think what LittleBigPlanet did, only item focused, not level focused). When I wanted to add the head of a pig, I just typed 'pig' when in customizing mode and when the game displayed said oinker, I had only to tap his head to use that piece in my new item.

Just give it a little tappy. Tap tap taparoo.
I could completely control the placement, rotation, and scale of these pieces when making my franken-creation. I could also quite easily change the color of each individual element, meaning I could make the head of the pig green, but the ears orange and the eyes purple if I so chose. Instead of default color swatches, there is a full color slider that should be familiar to anybody who has used Adobe Photoshop or other digital image manipulators.
Changing how it looks is only the beginning. Do you want it to be alive? Do you want it to attack humans? Do you want it to run away from cats? You can control that. You can control how much the item weighs, if you can ride it or not, how much damage it can do, and on and on. Thanks to the touch screen on the Wii U gamepad controller all these various options are easy to manipulate on their intuitive menu system. One thing I noticed is that this is the rare Wii U game where you might want to take out the gamepad's stylus (yeah I forgot it had one too) as the digital buttons are a bit smaller than my adult-sized fingers could hit with true accuracy.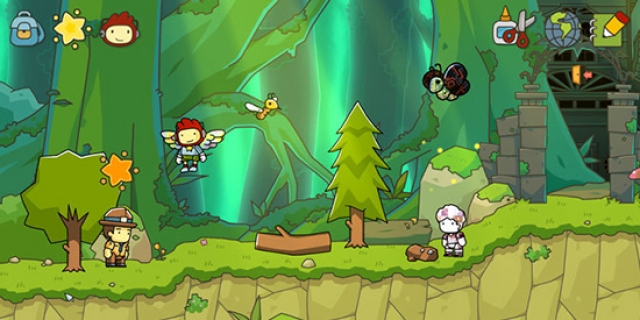 Maxwell has a hearing problem. The ranger asked for a plate of buffalo wings.
Making crazy items would get a little old if you didn't have a fun world in which to play with them in. For the first time in the series, Scribblenauts Unlimited is going more openworld. You will find yourself in larger levels with multiple people who all have problems you need to solve. Solving these problems will award you a piece of starite and once you have completed a full one, you will unlock passage into the next area. While my demo only had the first level playable, I was able to see the entire planned map, which is quite massive and varied. There will be oceans, beaches, snowy cliffs, dry deserts, rain forests, and much more in the final game.
This looks to be the best version of Scribblenauts ever. There are none of the previous control issues with Maxwell as his movement is only controlled with the left stick while the camera is moved with the right. Being on a TV allows you to zoom out to see much more of a playable area at once. The Wii U gamepad allows you to have the same intuitive touch controlled menus that the series enjoyed on the DS. Promised online also means your wacky creations can be shared around with other Scribblenauts around the world.
All in all I'm quite eager to get my hands on the full version.
More Articles
There are no comments to display.