GTAV Sales Top 130 Million, RDR 2 Sales Top 31 Million, Borderlands 3 Sales Top 10 Million - Sales
William D'Angelo
, posted on 01 June 2020
/ 4,088 Views
Take-Two Interactive and Rockstar Games in their financial results for the fiscal year ending March 2020 announced Grand Theft Auto V has sold over 130 million units worldwide. The game has sold around 10 million units in 2020 alone and is the best-selling game of the decade in the US based on units sold and dollar sales.
The game has sold roughly 32.5 million units in 2013, 12.5 million in 2014, 15 million in 2015, 2016, and 2016, 10 million in 2018, 20 million in 2019, and now around 10 million in 2020.
Take-Two also announced Red Dead Redemption 2 sales have topped 31 million units and is the best-selling game in the last four years in the US based on dollar sales. NBA 2K20 sales are 12 million units, which is 33 percent higher than NBA 2K19. Borderlands 3 sales are over 10 million units, which is 50 percent higher than Borderlands 2 sold during the same amount of time. The Outer Worlds sales are now over 2.5 million units.
The Grand Theft Auto series has now sold more than 325 million units worldwide in total, according to senior analyst at Niko Partners Daniel Ahmad. That would mean the 130 million units of Grand Theft Auto V sold account for 40 percent of the franchises total.
The Borderlands series sales are now around 60 million units sold, the Red Dead series sales are around 52 million units, the Bioshock series sales are around 35 million units, and the NBA series has sold nearly 100 million units.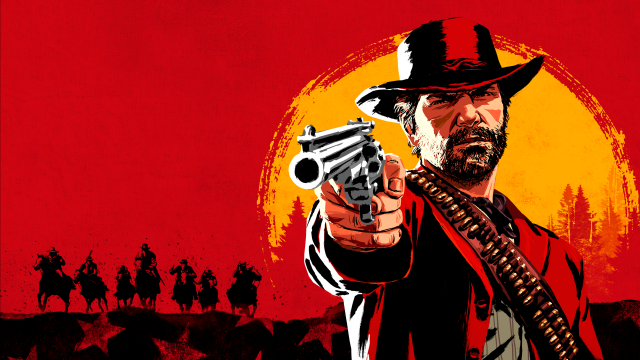 Take-Two announced net revenue for the quarter ending March 2020 increased year-over-year from $539 million to $760 million, while net income increased from $57 million to $123 million.
For the full fiscal year, net bookings increased from $2.93 billion to $2.99 billion. Digital net booking jumped 35 percent year-over-year to $2.4 billion and account for 82 percent of the total net booking.
Net revenue for the full fiscal year increased year-over-year from $2.67 billion to $3.09 billion, while net income grew from $334 million to $404 million.
Take-Two CEO Strauss Zelnick speaking with GamesIndustry said the pandemic has caused an increase in digital sales.
"A lot of people believe that whatever trends existed before this pandemic will be accelerated by the pandemic," said Zelnick. "I've been saying for a long time that we're seeing a shift to digital distribution...We do expect the trends to continue, but we don't expect physical goods to go away. Nor would we like them to go away.
"...It's a terrible thing to pat yourself on the back in the face of tragedy. That's not how we feel. We do think that providing great, at-home entertainment is a service in times like this. We love the fact that you can connect with greater communities and friends all around the world when you're playing online video games. Was there a push to more at-home entertainment during this time? Absolutely, yes. Did that affect our results positively? Unquestionably.
"I do think, though, you're going to see that this represents a bit of a sea change, and you're going to see more of an interest on an ongoing basis in interactive entertainment even as this ends."
Take-Two did add Kerbal Space Program 2 has been delayed from the fiscal year ending March 2021 to fall 2021 to give the team more time to finish the game. The publisher said the ongoing coronavirus (COVID-19) pandemic.
"It's hard," Zelnick said. "I find I work harder when I'm at home. You have fewer breaks, you're sitting in the same place, you don't have people around you, and Zoom calls can be draining in the extreme. Our colleagues are performing incredibly well...so clearly it's working. But I think all of us are looking forward to the time when we can appropriately and safely return to the office."
Looking ahead to the first quarter of the 2021-2022 fiscal year, Take-Two expects net booking up 92 percent and be between $800 million and $850 million. The publisher expects net revenue to be between $775 million and $825 million and net income to be between $103 million and $116 million.
Take-Two also expects net bookings from digital sales to jump to 81 percent for the current generation console game sales, which is up from 75 percent in the same quarter a year ago.
For the full fiscal year, Take-Two expects net booking to be between $2.55 billion and $2.65 billion. They expect the growth in the NBA 2K series sales to offset lower sales from Borderlands 3, Red Dead Redemption 2, and Grand Theft Auto V. Revenue from Red Dead Online and Grand Theft Auto Online are expected to be in line with the previous fiscal year.
Net revenue for the full fiscal year is expected to be between $2.62 billion and $2.73 billion and net income to be between $299 million and $329 million.
"The initial uptake of any new console generation is not immediate," said Zelnick. "I think that our light release schedule is actually well-suited to the year that's coming. We're really excited about the consoles, but there is uncertainty, and there's further uncertainty given the state of the economy that's been driven by the pandemic. I think that we are in a position of strength in that our offerings will mean we're going to have a great year."
Just checked the numbers and the GTA franchise has sold more than 325 million units in total.

130m means GTA V is 40% of total GTA game sales.

Borderlands around 60m, Red Dead around 52m, Bioshock around 35m, NBA nearly 100m.

— Daniel Ahmad (@ZhugeEX) May 20, 2020
---
A life-long and avid gamer, William D'Angelo was first introduced to VGChartz in 2007. After years of supporting the site, he was brought on in 2010 as a junior analyst, working his way up to lead analyst in 2012. He has expanded his involvement in the gaming community by producing content on his own YouTube channel and Twitch channel dedicated to gaming Let's Plays and tutorials. You can contact the author at wdangelo@vgchartz.com or on Twitter @TrunksWD.
More Articles