Resident Evil 2: A Familiar Fear - Preview
, posted on 31 October 2018
/ 4,919 Views
The first Resident Evil game I played was Resident Evil 2 on N64, back in 1999. My point of entry to the world of Leon Kennedy, Raccoon City, and the t-Virus, Resident Evil 2 (RE2) captured my imagination with its detailed full motion videos, survival gameplay, and explicit gore. Although other installments of Capcom's long-running horror franchise have wowed me—Resident Evil 4 is among my top ten games of all time and Resident Evil 7 one of my favorites from last year—it's RE2 that's nearest to my heart.
So when I spotted a booth dedicated to the upcoming remake of RE2 at New York Comic Con earlier this month, nestled between stations for Mega Man 11 and Devil May Cry V, I knew I had to play the demo inside. I owed it to my 16-year-old self. Thursday, the first day of the Con, was a wash; I had arrived on the floor too late. Friday and Saturday turned out to be unlucky also. Each day the line was capped once we arrived. On the dawn of the fourth day, I woke up committed to playing that demo. When I arrived at 11th and West 34th Street, I headed straight for the entrance nearest the Capcom zone. A few minutes before 10am the floor opened and I rushed to the RE2 booth, along with several others. It was a good thing too—when my best friend Rob found me, only ten minutes later, he informed me the line had been capped.
I was part of the second wave, so I had about ten minutes to kill. I admired the handiwork on the nearby booth, dressed up to resemble the iconic police station from RE2, watched some footage of upcoming Capcom games on the monitor in front of me, and chatted with the young man behind me. I asked him if he was excited to play the demo, and he responded that he had played the Leon chapter earlier in the weekend, and had failed spectacularly. "I never tried Resident Evil when I was younger," he explained. "I was busy playing Metal Gear Solid and Devil May Cry."
Finally, the first wave exited the booth and about twelve of us filed in. Most went immediately for the monitors with PS4 controllers, but I took a moment to take in the room. It was a faithful recreation of the interior of Raccoon City's police department (RPD) building post-outbreak, complete with blood-splattered walls and severed limbs. The demo stations were desks, covered in paperwork, coffee mugs, and lamps. Finally, I sat down at one of two free desks—the only two with Xbox One controllers. Next to me sat my friend from the line. "Oh great," he said sarcastically. "I have to use the impossible controller." Smiling, and keeping my love of asymmetrical sticks to myself, I placed a bulky headset on my head, inverted the Y-axis, and picked the Leon chapter.
Let me tell you: seeing rookie cop Leon Kennedy in the foyer of RPD headquarters transported me back 20 years, despite the shift from fixed to over-the-shoulder camera. I recognized the reception desk, the typewriter (unusable in the demo), the marble statue, the staircase—all of it. Yet as I pushed further into the station, I realized that the programmers at Capcom had remixed many of the interiors and puzzles I remembered. Yes, RE2 banks on nostalgia but it also provides a brand new adventure that transcends the rules of the original. This was especially clear in the front-right hallway, which looked nothing like the one from 1998/1999. Flooded and smeared in viscera, it was an unfamiliar sight.
Once I arrived at the end of the hall, and secured a notebook—a portent of puzzles to come—the first combat situation presented itself. A zombified police officer broke down a door and lunged at me, and kept coming despite several bullets to the head. For any readers looking for an old-school survival-horror experience, you're in luck: RE2 features slow-moving, deliberate aiming and monsters that can take a beating. After the first cop refused to retire, and finding myself swarmed by zombies from all sides, I just ran for it—another good sign that brute strength won't win the day.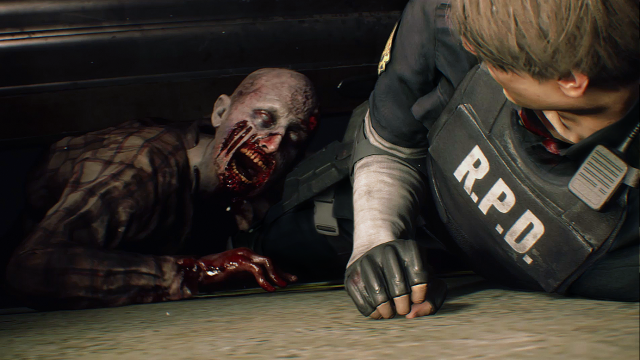 While the escape scene played out a little too cinematically for my tastes, the feel of terror was all too real. I was saved, in the end, by a helpful NPC, and given a knife—which, strangely, had a durability meter. How this works within the game, and how a broken knife might make certain puzzles difficult, is yet to be seen. In the remaining few minutes (the demo was timed) I wandered around the foyer, trying to open locked doors and solving a puzzle to earn myself a seal. From my ten minutes with the remake, I can say with confidence that brawn and brains are needed in equal measure.
I can also say the game looks and sounds gorgeous. In terms of image quality, textures, and lighting RE2 really flexes the muscles of current gen hardware. Voice acting and sound design is similarly great. The attention to detail is outstanding also; it would be easy to search each room for every little detail if the entire world wasn't out to eat you.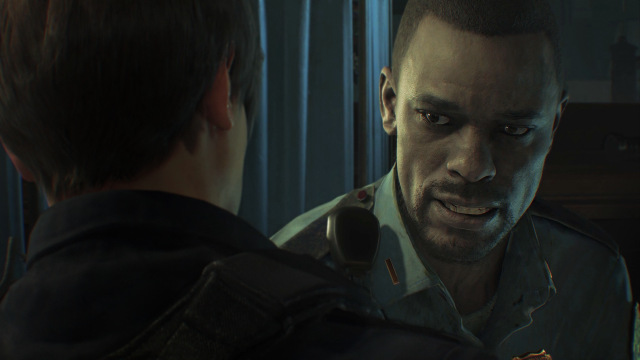 It's difficult to form an opinion based on ten minutes of playtime, but I believe fans of old-school Resident Evil and slow-burn survival-horror in general should be bullish on Capcom's upcoming remake. It looks great, it sounds spectacular, and it remixes fifth-gen locations, enemies, and puzzles to create an action-adventure experience that feels both familiar and foreign. For those of us who braved the streets of Raccoon City two decades ago, it's a trip down memory lane—only the lane's been repaved and rerouted to someplace unknown.
More Articles