SNK Heroines: Tag Team Frenzy (NS) - Review
Nicholas Taylor
, posted on 27 September 2018
/ 4,338 Views
After SNK's recent return to form with the success of King of Fighters XIV, the company promised that many more classic SNK titles would be following in the near future, as evidenced by the recent announcement of a new Samurai Shodown. However, with that statement in mind, SNK Heroines: Tag Team Frenzy is a bit of an oddball title, only bearing a passing resemblance to the old Neo Geo Pocket Color title SNK Gals' Fighters, which paid special attention to the lovely ladies of SNK's key franchises.

SNK Heroines: Tag Team Frenzy follows this ideal, but with quite different results and intentions, homing in heavily on the sex appeal and cuteness inherent in the characters, and featuring a lot of raunchy costumes, covering everything from cheerleaders and bunnygirls to schoolgirls and bikini warriors. Although this might seem a tad exploitative at first glance, SNK Heroines: Tag Team Frenzy isn't pretending to be anything it's not. It makes very light of itself throughout, and it's definitely a quirky, fun game at its core; one which will poke fun at its own expense and yours, so long as you're able to laugh with it.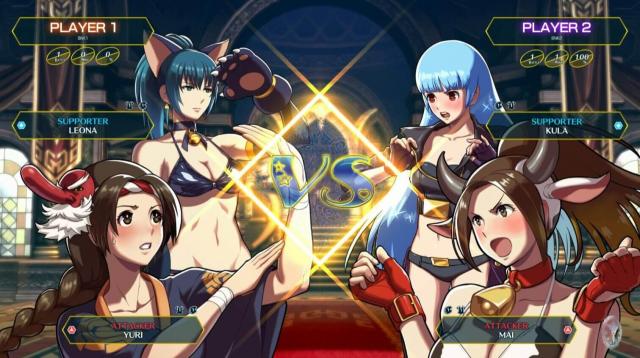 It's a fighting game with a tag team mechanic, which allows you to switch out between your two chosen characters freely, but commands have been heavily simplified. It's likely that experienced fighting game players will be more frustrated than excited at the lack of traditional options the genre tends to have, such as no moves requiring motion commands and crouching not even being possible in the game.

This is a clear design choice on SNK's part though. It's a game which allows players who enjoy the fighting genre but have a hard time learning all of the intricacies to shine - you can pull off special moves and super moves with just the press of a button, for instance. There's definite depth if you want to explore further, with complex combos and high-level mind games both being present, just in a much more streamlined and simple fashion than most fighting games.

Although most of the cast are reused assets from King of Fighters XIV (with the exceptions of franchise fan favorite Shermie and SNK's manly icon-turned-female Terry Bogard), there's a lot of variety based on the costumes you pick for your character, but more importantly, the customization options you have available to you.

SNK Heroines: Tag Team Frenzy has a lot of content, with heavy emphasis placed on the ability to customize your character. While each playable character has three core costumes to choose from, you have the option to customize many aspects of them, truly personalizing your heroine in your own personal fashion, even down to choosing from four different voice styles for each (characters will always have their own voices, but this option change which lines they use, or how they deliver them).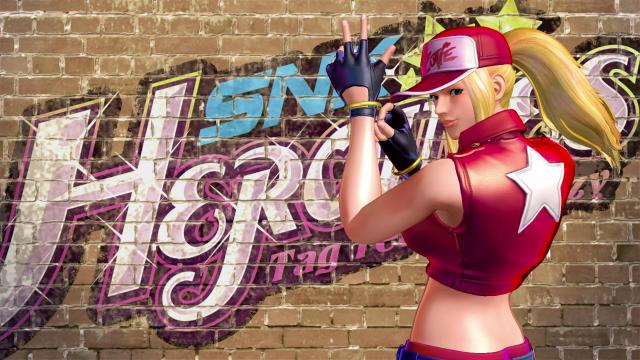 Customization parts are unlocked via an in-game currency which you gain from doing pretty much anything in the game. The expansive tutorial, which will show you everything the title has to offer in-battle, nets you a hefty sum to start you off. From there, playing single player modes or online matches will give you more, and sometimes character parts will unlock on their own just from playing, meaning that you get frequent rewards for the time you spend on the game.

As far as multiplayer goes, as is the case with most fighting games, you can just jump right into it as long as you have a friend beside you and a second controller at your disposal. Like any fighting game, it's best enjoyed together with a friend, and if you're a beginner to the genre you can learn the intricacies of the game together by playing a bunch of versus matches against eachother. It has basic online functionalities, and you can search for either regular matches or even bet the in-game currency on your match, by which you can increase your riches even more or risk losing them all.

A big part of what I personally enjoyed during my play sessions is how kind it is to fans of SNK games and their rich history. While the roster is relatively limited at 14 launch fighters, there are many funny interactions between these characters in story mode. In particular, Terry's friends' reactions to him now being a woman tend to be very funny, with Yuri frantically searching for a cell phone to take pictures of him before he can turn back and Kula lamenting that Terry's so much cuter now and that he should stay this way rather than becoming himself again.

Overall, SNK Heroines: Tag Team Frenzy is a fun little game which excels at keeping you busy, even though there's not all too much depth inherent to it. If you're looking to pick this game up, I'd recommend that you fulfil at least one of the following three criteria: You love dress-up games and character customization, you enjoy the concept of fighting games but have a hard time getting over the hurdle of their complex commands and breadth of options, or you're simply a huge fan of SNK's characters, because there's a lot of fanservice (no, not the obvious kind) for people who enjoy the company's games.
Read more about our Review Methodology here
More Articles