Metroid Prime: Blast Ball Rolls All Over Fan Expectations - Preview
Brent Galietti
, posted on 17 June 2015
/ 6,161 Views
Metroid Prime: Blast Ball was revealed just before E3 at the Nintendo World Championships. It was then simply called Blast Ball, but during Nintendo's E3 Direct the game's full name was revealed, as was its inclusion in the upcoming 3DS Metroid Prime: Federation Forces co-op shooter. This new labelling sent many Metroid fans into a tizzy, as they were hoping for a true Metroid title. What I played at E3 is anything but, however it could have its own appeal.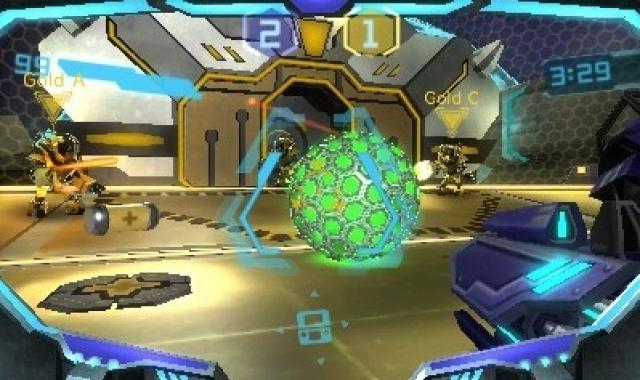 Blast Ball is a simple three-on-three matchup in a battle arena. Players enter their mechs and begin shooting at the Blast Ball, a colorful digital ball that rolls around the arena. The team that scores three goals is the winner of the match. The ball is moved indirectly by shooting at it. Regular shots move it slightly while charged shots give it more momentum. After each goal is scored, the net shrinks, making it more difficult to get that game-clinching goal.
Each player has a health bar, and they can be damaged by either the ball hitting them or another player shooting them. When a player runs out of health, they are briefly ejected from the match, giving the other team a chance to strike while the defense has fewer numbers.
Assisting each team in its quest for e-sport supremacy are power-ups that can turn the tide of battle. Power-ups didn't come into play much while I was playing, but the Nintendo rep mentioned a power-up that would eject members of the opposing team. That kind of effect could clearly swing the match.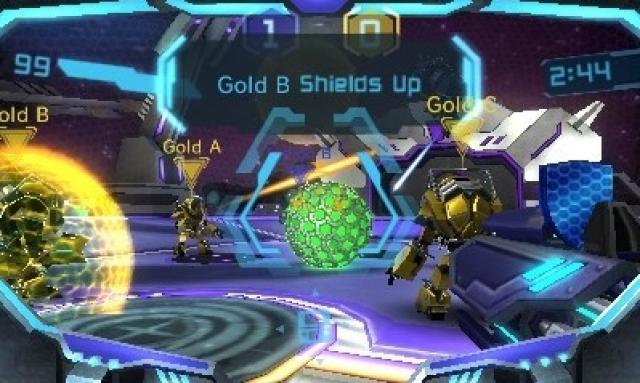 While normally the cursor points directly in front of you, you also can use gyroscopic control to try and push the ball in the right direction. However, I noticed that even when I did this it didn't seem to affect the ball much, if at all. Also, when the ball gets stuck against a wall, it's hard to pry it out with all of the crossfire going on.
Blast Ball is a simple and flawed multiplayer game, but it still has plenty of time to be tweaked into a better experience. It will release as part of Metroid Prime: Federation Forces on the 3DS in 2016.
More Articles