gamrReview Japan: The Beginning (Hajime) - Article
Xavier Griffiths
, posted on 21 June 2013
/ 2,536 Views
Greetings from Japan (日本)! For the past several months I have been spending a semester abroad studying in the land of the rising sun, specifically Tokyo (東京). I came to Japan for several reasons. Culturally I have always been interested in Japanese literature (文学), cinema, food (料理), and (to a far lesser extent than most of our readers, I'm sure) anime (アニメ) and manga (漫画). Of course as a longtime gamer, coming to Japan feels like a pilgrimage of sorts. From Pokémon (ポケモン) to Disgaea, many of my fondest gaming memories came as cultural exports of Japan.
A face to face between me and The Great Buddha at Kamakura (鎌倉大仏).

So without further ado, I present gamrReview Japan, a series of blog-like articles detailing my videogame related adventures in this verifiable electronic wonderland. I know many of our readers have a particular fondness of Japanese gaming and for them I will try bring the most vivid reports I can, even stepping out of my personal gaming comfort zone when necessary. So what type of articles should you expect from gamrReview Japan? I have a ton of great content in mind ranging from import reviews, visits to arcades and gaming stores, trips to a host of specialty locations of particular interest to gamers and more surprises.
The land of the rising sun is also the land of portable gaming.
Leaving home console gaming alone for several months and in typical Japanese fashion embracing portables, I travelled equipped with my trusty Nintendo 3DS and PlayStation Vita. Thanks to the magic of digital distribution I have been able to keep up with new online releases and write reviews of PSN and E-shop games while away from home. Since the Vita is region free, I also hope to bring hands-on impressions of titles only available in Japan. Unfortunately 3DS games are region locked, but my 3DS can play Japanese DS games so I will also write impressions of slightly older titles that nonetheless were never made available to a mass audience on Western shores.

Thus far, my experience in Japan has been better than I could ever have imagined. Despite my daily struggle to speak and understand the language, Tokyo is a very liberating city to live in. If you do not mind getting lost, which is inevitable as the streets have no names, you will often find yourself in places more interesting than your intended destination. Reportedly the longer you stay here the stranger it gets. So far this has proven true, which makes me sad that my time abroad is slowly but steadily dwindling to a close. That sense of impending disembarkation has motivated to write this series of articles hoping to preserve a written document of my experiences that will hopefully motivate other gamers to embark on their own Japanese adventures.

Before I close this initial post allow me to share some highlights and advice from my experiences in Japan so far that are not necessarily related gaming but are intriguing nonetheless.
Standing next to the Giant Robot from "The Castle in The Sky" is one of the few times I feel short in Japan.

• The Studio Ghibli Museum in Mitaka (三鷹の森ジブリ美術館)is fantastic. For fans of their films it is a must visit. Designed by legendary director Hayao Miyazaki, the museum is a work of art in itself offering assorted treasures for fans of anime, world cinema, art, and storytelling. Major European influences intertwine with this quintessential Japanese cultural phenomenon that has enchanted admirers all over the world. You have to reserve your attendance months in advance but it is worth it. I was a bit disappointed that as of yet there seem to be no exhibits or art pieces representing the well received RPG Ni No Kuni, a joint product of Studio Ghibli and developer Level 5. The Ghibli museum also has a theater that screens shorts films not available anywhere else. During my visit I watched the magical "Mei and the Kitten Bus" 「メイと子猫バス」a sequel of sorts to the iconic "My Neighbor Totoro" 「となりのトトロ」.
• Be sure to buy a charm for your phone. Not only will it help you locate your phone and distinguish it from others, but comparing phone charms is a potential conversation starter with local Japanese. I personally went with a Dragon Ball Z inspired Gogeta (ゴジタ) charm for my otherwise plain white Softbank pre-paid phone.
• June is the rainy season in Japan. It will rain. A lot.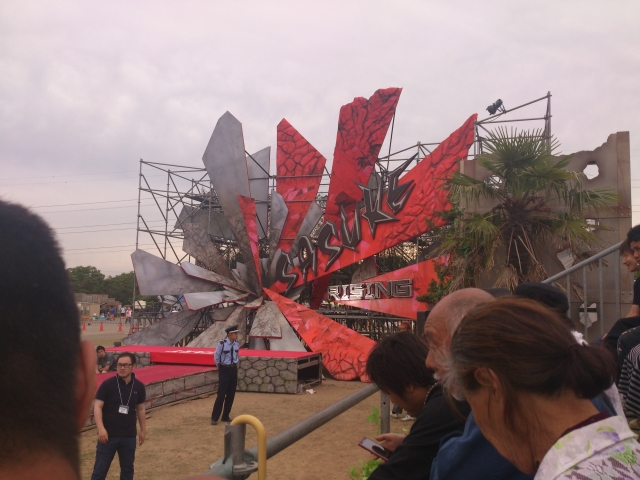 Sasuke Rising
•Sasuke, or Ninja Warrior as it is known in the US, is much more thrilling to watch live in person than on TV. If you are cheering for a friend taking part in the competition it is even better.
• Bring your 3DS. Turn Street Pass on. Enjoy (or endure) the endless barrage of Miis that will be coming your way.
After all these years the game still holds up great! This is why certain games are considered classics.
• My dorm has an N64 that we occasionally hook up to a massive HDTV for extended play sessions of the original Super Smash Bros. Even as I look forward to the new installments on the Nintendo 3DS and Wii U, I am amazed at how well the game holds up both graphically and gameplay wise. This is why certain games are considered timeless. Oh, and Jigglypuff's name in Japan is Purin. Weird.
More Articles
There are no comments to display.