Super Kid Cannon: An Interview with George Francis - Article
Craig Snow
, posted on 23 January 2014
/ 1,484 Views
Super Kid Cannon is an upcoming mobile game from Skyjoy Interactive, an indie developer based in Miami. It features a rather cute, but no doubt deadly (in a good way) red panda who is determined to save his beloved Justine from the clutches of evil.
So far, so very Mario, and indeed the team at Skyjoy make several nods towards some of gaming's biggest icons, including Mario and Sonic. With decades of experience in the industry behind them they're determined to craft new IP, and even a new genre. Super Kid Cannon is a 'Vertical Launcher', which involves a mix of puzzle and strategy gameplay.
I had a chance to ask the company's Creative Marketer, George Francis, about the game and the inspirations behind it:
Q. It seems like you have a small but dedicated staff at Skyjoy, many of which have a lot of development experience under their belts; what inspired you guys to create your own studio/join an indie start-up? It must be pretty daunting and risky, even for experienced developers.
A. Dedicated is an understatement, Craig! Some of our guys, including the Portilla brothers, have been making games since the mid 1980's. Having said that, the inspiration came from the best place it could ever come from -- the heart. We TRULY love videogames. From top to bottom, we are all gamers here. So what better way to show our love than to create a game we love, and share with the universe? Of course, there is always a risk in everything you do, but you suck it up and deal with it when you love what you're doing.
Q - So Super Kid Cannon is Skyjoy's first game, and you're calling it a 'Vertical Launcher' game, what exactly does that mean?
A. It's a trailblazer! It's the first game of its kind. You launch your character vertically (via cannon, ski-lift, bubble, windmill, spaceship, etc...) until you reach your goal. As you progress, you encounter new modes of launching, and a truly incredible variety of hand-crafted character and worlds.


Q - If the game is a success is there any chance it could release on consoles or PC as well?
A. Absolutely. If there is a demand for it, it will be our pleasure to listen to our fans, and give them what they want.


Q - What do you guys make of the rise of Kickstarter as a platform for video game funding? Was that ever on the cards for Skyjoy and would you consider it as an option in the future?
I definitely respect Kickstarter, because without it, there would be an even greater limitation on making games. It's a tough industry. It was not on the cards for Skyjoy, and likely will never be, because we were fortunate enough to have a support system (based upon our experience in the industry) that allowed us to move forward without Kickstarter. But I do believe people should do whatever they have to (within legal boundaries and reason, lol) to create their dream game.
Q - There are a lot of nods towards some iconic gaming franchises in the trailer for Super Kid Cannon, like Sonic and Mario, so these are obviously big inspirations for you guys. Are there any other, perhaps less obvious classic games or franchises that have inspired the team?
Yes. I would say classics like Lunar Lander and Donkey Kong were inspirational as well. You may notice other inspirations as you play.


Q - When you first contacted me you mentioned you were a fellow GRID racing franchise fan. One of the things I always like asking those working on the development side of video games is what games they've been most touched or influenced by this last generation (~2005 onwards) - what would your picks be?
A. As a racing game, I loved the first Grid (the 2nd as well, but the first had a bigger impact on me). Everything just felt right. The graphics were incredible, I enjoyed the controls, and I appreciated the way it rode that line between arcade and realistic racer. As far as the most influential games on the guys here, here's a list of a few that were bellowed out by my colleagues: Borderlands, Gears of War, Rock Band, Rayman, Mega Man, Portal, Elder Scrolls, Street Fighter, (you opened up a can of worms here, Craig), Plants v. Zombies, and FAF among others.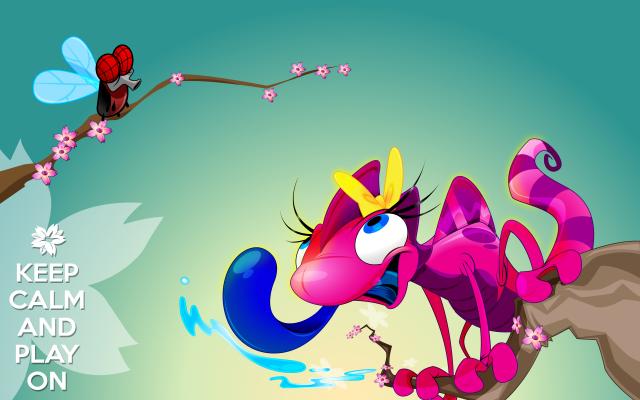 You can find out more about Super Kid Cannon over on the official website. The game is due to release on the App Store, Windows Store, Amazon App Store and Google Play sometime this year.
More Articles
There are no comments to display.