Transformers Universe is One to Watch - Preview
Patrick Day-Childs
, posted on 30 September 2014
/ 3,434 Views
While at EGX 2014 I managed to go hands-on with a number of games, including Jagex's upcoming MOBA, Transformers Universe. Jagex really put on a show for this one, streaming the game live, with EGL announcer Silverback offering commentary.

Transformers Universe has a big emphasis on four player gameplay, but offers both PvP and PvE MMO missions. At EGX I got to try out the game's Player vs Player.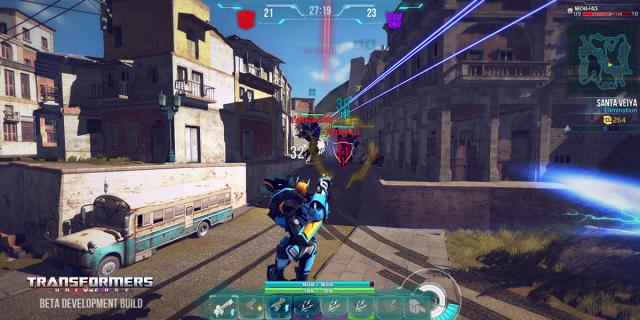 The map is set out in distinctive MOBA style; there are three main paths to take, with smaller paths hidden between tall buildings. The map is easily big enough to transform on and drive around fairly freely. Unlike the vast majority of MOBA games, the game is also played from a third person shooter perspective, but where it does borrow heavily from MOBAs is in the addition of special abilities and attacks.

What is interesting about Transformers Universe in particular is the level of thought put into the special abilities; fights (at least from my brief hands-on experience) are very well balanced. Some characters benefit from a direct head-on combat approach, while others benefit from a buffing system, but all can hold their own.

Transformers Universe actually went into open beta a couple of months back, but has thus far floated somewhat under the radar, so many gamers may not be aware of that fact. If you're interested, I would definitely encourage you to sign up to the public beta here.
More Articles
There are no comments to display.