MLB 12: The Show - Review
Brent Galietti
, posted on 29 March 2012
/ 5,744 Views
Even if you've never played a sports game in your life, you've likely heard of The Show. Sony San Diego has been churning out the top-rated sports game for the past four years to the cries of joy from PlayStation-owning baseball fans. With MLB 12: The Show, the baseball machine keeps on moving, and they will likely make it five years in a row at the pinnacle of sports gaming.

For the uninitiated, just take a look at the screenshots in this review. MLB 12: The Show is a beautiful re-creation of Major League Baseball, the minor leagues, and all of their players. It's a common reviewer cliché to say that a sports title looks exactly like real-life, but it is actually true in The Show's case. Just watching a simulation of two AI teams going at it, I got the distinct vibe of watching a real baseball game. Everything, from batting stances, pitching motions, tendencies, to scouting reports is all here. Also just as beautiful are the stadiums. Each and every little detail from the real ballparks are translated to The Show, from the Yankees' Monument park to Kauffman Stadium's majestic waterfall. New to the ballpark list is the brand new Marlins Park, home of the Miami Marlins and there were no corners cut in getting it ready.


A plethora of game modes have been packed into MLB 12: The Show. Exhibition, Season, and Franchise modes are what you expect they are, being staples of many a sports game. Rivalry mode pits your chosen team against your chosen rival over and over again, a Home Run Derby mode is available to bash balls out of the park, but the mode that still epitomizes The Show is Road to the Show, where you are an aspiring minor leaguer aiming for the big leagues. Every day, you'll be pushing yourself through training and game action, using the experience points gained to boost a multitude of stats covering batting, pitching, fielding, and baserunning. As you improve, the opposition will find ways to exploit your weaknesses and you must adjust to counter that, in similar fashion to how baseball players change and adapt throughout their careers.

Cross-platform play is a major feature this time around. It allows those who own a Vita and a Vita copy of MLB 12: The Show to transfer their game to the cloud, where the Vita can download it and pick up right where the PS3 left off. Because of the expense of owning both copies and both systems, this is a feature that not many people will experience, but it's going to be quite tempting to those who already have both systems in their possession.
Online, MLB 12: The Show continues to improve on its predecessors. Input lag is almost non-existent now, though some visual lag occasionally occurs. Customization has been improved; you can now search for games with only rookie players, with specific control setups, guess pitch on or off, and so on. Leagues are available to join, with a variety of different setups and season lengths. Diamond Dynasty takes that up a few notches - you create your own team, uniforms, bases and more to join what is touted as the largest online dynasty in the world. In addition, a new Challenge of the Week is created each week, testing your abilities in new ways every week throughout the year. Beware, however, if you are planning to buy this game used, as MLB 12: The Show joins the ever-expanding list of games requiring an online pass.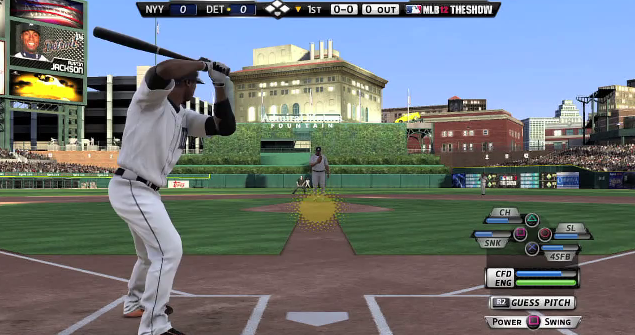 Controls in The Show are up to you. For a classic baseball game experience, controls using only buttons are available, but for a deeper experience I recommend the new pulse and zone controls, which use both analog sticks to line up where you will swing the bat and the power in your stride when swinging. For pitching, a new meter is added that shrinks and grows in size based on the situation. PlayStation Move controls have been added to the full game (this was originally only available in Home Run Derby), providing yet another new way to experience the action. The physics have also been updated for this year's edition, as balls come off the bat and the pitcher's arm more realistically than in past years. This opens up more types of hit results, more realistic ball spinning during a pitch, and balls tailing away from the outfielders as they do in the real world.

Sports commentators have often been a trial of repetition and, although MLB 12: The Show's commentators do have plenty of things to say (particularly at the major league level), many of these lines are similar and will become repetitive quickly. It's impossible for a game to have as much script as a real person, but even so, I am still waiting for The Show to beef up this part of the game and make it more enjoyable.

Another small flaw that will bother baseball purists this year is the lack of the new playoff system. MLB expanded the playoff field to ten teams this season, where the two wild-card entrants in each league have a one-game playoff to determine who reaches the final eight. But this is not in MLB 12: The Show and adding it doesn't seem to be a priority right now. It's a shame that a game that prides itself on realism does not have the real post-season format, especially since its competition, Major League Baseball 2K12, does have it.

So after digesting all of the changes, good and bad, what do we have? We still have an amazing, realistic baseball experience that can proudly call itself the best, as the new features, particularly Diamond Dynasty, make MLB 12: The Show incredibly deep. It might be a tough sell to someone who has never played, liked, or cared about baseball, but for anyone with even a slight interest, MLB 12: The Show is a blissful experience, epitomizing why we enjoy the game of baseball.

This review was based on a PlayStation 3 copy of MLB 12 The Show, provided by the publisher.
Read more about our Review Methodology here
More Articles
There are no comments to display.