Karl Koebke
, posted on 01 June 2011
/ 6,523 Views
Not every publisher is big enough to take up an entire preview article on their own, but that doesn't mean that the games they make have any less potential. With games like Skyrim, Dead Island, and Deus Ex: Human Revolution, these publishers are making some of the most anticipated games of 2011 and beyond. Here are some of the games you should look forward to learning more about during E3 2011 from the publishers who can't buy and sell the moon.



Atlus:
Going alphabetically, Atlus gets first chair and that works for me because they are one of my personal favorite small publishers. These guys have made and published some of the best and craziest games ever and this E3 looks to continue that nicely. Games you should look forward to from Atlus include Catherine for PS3 and 360, Strange Journey 2 for the DS, and Devil Survivor Overclocked for 3DS. Unfortunately it's unlikely that Atlus will announce anything new at E3 since most of their published games are originally Japanese releases and any new announcement for those games would be at TGS.



Bethesda:
Bethesda is a hard name to ignore when it has two of the heaviest hitters in 2011. Rage is a game for PS3, X360, and PC made by id Software that has everyone swooning at its impressive visuals, but it's also shown itself to be an interesting new Shooter even amongst a crowded genre. Then you have The Elder Scrolls V: Skyrim, which takes the gameplay from one of the most highly rated games this generation and finally updates the tired old engine. Two beautiful new games with proven gameplay to boot. Sure, Bethesda might reveal something else like Doom 4 information or even Fallout 4 but as long as I get some time with Rage and Skyrim I'll be perfectly satisfied.



Capcom:
It seems silly to call Capcom a small publisher when they've been around longer than most of us have been able to eat solid foods, but here we are. Capcom is looking to have quite the E3 with some expected sequels and one particularly exciting new IP. Monster Hunter Portable was just announced to be reworked for PS3 and we believe it'll show its face, as well as Mega Man Legends 3 for 3DS. Devil May Cry for Ps3 and X360 promises to give the series a new image but I'd say the most interesting game in the lineup has to be Asura's Wrath. This action title developed by CyberConnect2 has an intoxicating style that makes me more interested with every new video. I can't wait to see how our six armed hero is going to take on the giant Buddha from space. Hopefully we'll get some new footage and maybe even some gameplay when E3 rolls around.



Codemasters:
Codemasters may seem like a strange edition to the list but they are here for one reason only: GRID 2. We at GamrReview direly want GRID 2 to get an announcement, finally, for obvious reasons. GRID is still our most highly rated racing game and a certain fellow reviewer would beat me with a shovel if I didn't at least give Codemasters a mention from that standpoint. So come on Codies, we know you're working on it, just make it official this E3.



Deep Silver:
How can you talk about exciting upcoming games without mentioning Dead Island? This melee focused zombie game looks to put everything we love about the game archetype together into one brilliant experience. Customizable weapons with durability, RPG aspects in an open world, and a tear jerking story about a bunch of people just trying to go on a damn vacation. Deep Silver is unlikely to announce anything else this E3, but do you really need more?



Ignition:
Ever seen a painting come to life? And then change styles right before your eyes? Well you'll get your chance with El Shaddai for PS3 and X360. This title promises to take you through a magical journey where backgrounds change fluidly and each level of the game revolves around the story of one of the angels of the Book of Enoch. So you have an artistry driven new title with an interesting storyline, but how does it play? Well I can't tell you yet but there's something to be said about at least looking different from everything else out there, we'll just have to see if the gameplay matches my excitement for the visuals at E3.



Konami:
Oh Konami. You make so many games it's hard to believe you're on a dinky little list like mine. But then again I don't want to talk about the next Dance Dance Revolution or Pro Evolution Soccer. Let's get to the really interesting stuff: Metal Gear! Obviously Metal Gear Solid Rising is coming to PS3 and X360 in all its slashing, stabbing glory, but perhaps even more exciting is a remastered version of my personal favorite MGS game in Metal Gear Solid 3: Snake Eater 3D for (you guessed it) 3DS. I'm sure all the Sony and Microsoft fans will be waiting with bated breath to see if Rising uses Kinect or Move to enhance its slashing, and Nintendo fans will be waiting to see what has been added to Metal Gear Solid 3 to make it worth repurchasing (if it's not a case of repurchasing then just do it!). E3 will tell all, and perhaps a new Metal Gear will make its way into the ring.



Natsume: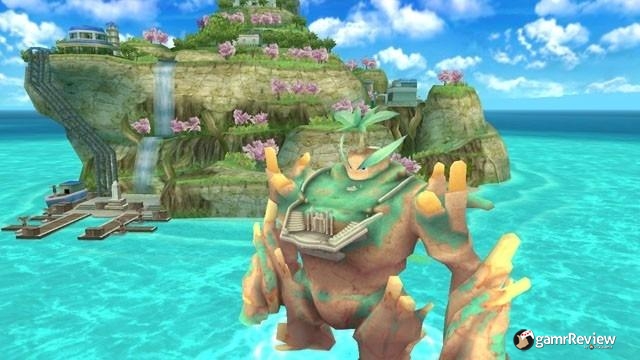 Ready to do some farming in between exploring dungeons with an Action RPG battle system? Well I've got something right up your alley. Natsume has just recently announced the localization of Rune Factory: Tides of Destiny for PS3 and Wii. Not only will this finally decide which console is better at selling JRPGs (something our forums will argue about for weeks, I'm sure), but if Rune Factory Frontier is anything to go by it's going to be pretty great. There's been some talk about this latest Rune Factory focusing more on combat than farming, which has me a tad worried, since my favorite part is slowly growing crops (except you, Runeys, you go to hell and you die!). But I'm willing to give this game the benefit of the doubt, hopefully we'll get some hands-on time with this weird little mutt of a game come E3.



Namco Bandai:
Namco Bandai may be a curse to some of its more kicked around fans (Tales in particular), but they're looking to have quite the show this year. Kicking off with a new Soulcalibur for PS3 and X360 we know next to nothing about, then Tales of the Abyss for 3DS, Tales of Graces F for PS3, and finally Dark Souls for PS3 and X360 (which I'm sure will have surprises of its own... most of which will kill you). It's quite the enigmatic list of games but definitely something to look forward to. Will Namco finalize Tales of Graces F platforms and crush Nintendo fan dreams? Will Soulcalibur outdo Mortal Kombat by actually having an X360 exclusive character? Will Tales of the Abyss release outside of Japan, and will Dark Souls ever admit that it is totally Demon Souls 2? Tune in and find out June 6th when our E3 coverage begins.



NIS America:
NISA may not actually attend E3 this year but they had an event just a few weeks ago, so there are still some exciting new games to talk about regardless. Sure, everyone knows that Disgaea 4 is coming to turn all its fans into hermits for another few years, but their recent event also announced Atelier Totori for PS3, ClaDun x2 for PSP, and even a Dynasty Warriors-styled anime based game in Bleach: Soul Resurrección. Sure, they're almost definitely not going to announce anything new this E3, but if we're lucky they'll have some of these playable there and we can get some new information. Personally I'm just happy they announced Atelier Totori for 2011 because that's one more correctly predicted localization from my "Dark Horses from Japan in 2011" article. So for proving me right NISA gets a mention in this article as well.



Sega:
Poor poor Sega, they just can't seem to catch a big break lately. Seems every time they make a statement about how some game or another sold it's never good. This year they have Sonic Generations for PS3 , X360, and 3DS coming, as well as Mario and Sonic at the London 2012 Olympic Games to shore up the financial numbers, but that isn't why I made this paragraph. Sega, you and I both know you want to release Valkyria Chronicles 3 over here. Quit being a tease and make it official. If you don't, not only will VC fans miss out on a new entry focusing on a penal military unit Gallian army called Squad 442, but I'll be wrong about my prediction that you'd bring Valkyria Chronicles 3 over to the West in 2011. So please, Sega, don't make me wrong, and I guess don't disappoint all those fans. But mainly the first part.



Square Enix:
Square Enix may be known for their own games but they're making a good effort at publishing some fantastic looking games as well lately. First and foremost amongst these is a return to one of the most venerated WRPG series in Deus Ex: Human Revolution for PC, PS3, and X360, but that's not all they've got going for them. Hitman is also set to make a return with Hitman: Absolution, again for PC, PS3, and X360, and there've even been some rumblings about a new Carmaggedon. So remember, even though Final Fantasy and Dragon Quest are the first things you think of when it comes to Square Enix, that's not all they do, there's also Kingdom Hearts (with Kingdom Hearts 3DS on the way) and these three games.



Warner Bros.:
Warner Brothers Interactive isn't usually a publisher I take particular interest in but there's one huge caveat to that this year: Batman Arkham City. I reviewed the first game myself and was massively surprised at how polished and fun it was. It's probably the best game based off an IP established in another medium that I've ever played. The sequel is looking to take everything that made the first a success and kick it into high gear with an open city to explore and tons of new Batman characters to interact with including Two Face and Catwoman. I'm sure we'll get a glimpse of some of the other characters making it into the new game come E3, and I personally have my fingers crossed for Clayface.
Full Preview Schedule:
- Microsoft Preview
- Sony Preview
- Nintendo Preview
- Electronic Arts Preview
- Activision Preview
- Ubisoft Preview
- Take-Two Preview
- June 2 - Most Anticipated Games of E3
- June 3 - Speculated NGP and Project Cafe Lineups
Related Articles