Nick Pantazis
, posted on 21 June 2010
/ 14,198 Views
E3 was absolutely incredible this year, and while we're still posting up our hands-on articles and previews from our busy week, we did sit down at the show and go through the games that impressed us the most. These awards represent our opinions and impressions on our favorite games of the show. While we played hundreds of games we didn't play everything, so opinions may vary. However, above all else we hope these awards will highlight some of the truly stand-out titles, and give you some games to look forward to. So without further ado, I present to you VGChartz's favorite games of E3 2010.
Bulletstorm
Bulletstorm looks like an over-the-top violent marriage between Epic's own Unreal Tournament and Madworld. The game is a first-person shooter with cover mechanics and the tagline "kill with skill". Bulletstorm doesn't want you to kill with efficiency, but would rather you act like a cat playing with a mouse before the kill. Every demented action you inflict on a person like kicking them into a cactus or using your grappling hook to toss them into the air is rewarded with points. You're encouraged to string a long list of deplorable deeds together to increase your score. It's a lot like Madworld sped up to the pace of your typical FPS.
Check out our full E3 Preview here.
Twisted Metal
David Jaffe is officially the biggest tease in the gaming industry. After telling everyone and their mother that he wasn't going to step foot in E3 and he wasn't working on Twisted Metal he rides in with Sweet Tooth at Sony's E3 conference. Luckily Twisted Metal is completely worth getting jerked around for. VGChartz got a chance to play this on the floor today and it is shaping up to be exactly what the fans have been waiting for.
Check out our full E3 Preview here.
Gran Turismo 5
Gran Turismo 5 took home the gold for racing games among fierce competition at E3 this year. This sim racer has a ridiculous level of detail, variety, and options that make it a must own for any hardcore sim racing fan. In addition to this a ton of new social networking features, 3D, head tracking, and multidisplay truly make Gran Turismo stand out among the competition. The top of the line of sim racers is finally here… almost.
Check out our full E3 Preview here.

Deus Ex: Human Revolution


The demo drew to a close with Jensen confronted by an extremely powerful augmented human, whose arms could turn into enormous guns. It was a blast to watch, and alleviated any apprehension I had that it wouldn't meet what I expected of a Deus Ex game. If this demo is any indication it will be a true evolution for the franchise. Deus Ex: Human Revolution is a true Deus Ex game, and so far looks like an incredible experience for fans and new players alike.
Check out our full E3 Preview here.
Mortal Kombat
That is how you do a Mortal Kombat game. That is how you kill an enemy at the end of a hard-fought battle. That... is Mortal Kombat. The series has endured bankruptcy, plenty of less-than-stellar titles, and years of silence (Mortal Kombat vs. DC Universe doesn't count!) to become the most emotional experience I had on the floor. I haven't literally cringed, gasped, or laughed aloud in wonder at something on a game screen in a long time. Bravo, Warner Brothers. You did the MK name proud.
Check out our full E3 Preview here.

The Legend of Zelda: Skyward Sword
The Legend of Zelda: Skyward Sword was a cavalcade of varying motion controls of all types on the Wii, and a truly impressive demonstration of its capabilities. While clearly the visuals are still being polished, you couldn't ask for smoother gameplay. If this is the future of motion controlled action games, count me in, and if you really want a 1:1 sword control adventure, look no further. The Legend of Zelda: Skyward Sword is shaping into an incredible experience.
Check out our full E3 Preview here.
Civilization V
Civilization fans have been waiting since 2005 for the next major installment in the beloved strategy game of world conquest. With Civilization V the developers (Sid Meier's Firaxis studio) have completely re-thought the experience that is Civilization, introducing new features in an attempt to make the game both simpler to play but deeper to master. I got a chance to attend a live demo of the game here at E3 and let me tell you, Civilization is back in a big way.
Check out our full E3 Preview here.


NBA Jam
All of the classic arcade gameplay features combine to make a game that feels like NBA on crack. Few rules, very fast pace, ridiculous facial expressions and animations on the characters, and the ability to play as characters like team mascots—it's every bit as exciting as it sounds. Is it any wonder that everyone in line behind us was shouting, gasping, and screaming at every twist in the game?
Check out our full E3 Preview here.
Kirby's Epic Yarn
Kirby's going back to his roots, platforming on a home console for the first time since the year 2000. His eating attack has been replaced with a whip of yarn, and the whole Dream Land has been replaced with a world of yarn, cloth, and buttons. Kirby jumps, drives, parachutes, skateboards, swings, ground pounds, and whips everything in sight. Then he turns into a shark, a submarine, a car, a UFO, and a giant tank that shoots boxing gloves. Reggie definitely wasn't kidding when he said Kirby's got game.
Check out our full E3 Preview here.
Dance Central
Wait? What? A dancing game where you actually dance?! Yes, we're serious, and Dance Central seriously rocks. It's easily the best use of Kinect we saw at all of E3. There is nothing more important for full body motion capture than dancing, and in our experience Dance Central plays like a dream. Brought to you by the great developers behind the original Guitar Hero and Rock Band, Dance Central stands out among the oversaturated music genre.
Check out our full E3 Preview here.
Or watch our own Evan Elden Eller rock out to Dance Central here.

Portal 2
At the end of the event, Valve concluded by stating that the original game had received a lot of warm reception and praise for its ending theme song, Still Alive, and that they'd like to replicate that success in some shape or form in the sequel if given the opportunity. It was emphasized that the new single player will be twice as long as the first game and that co-op would feature an entirely different set of levels from the single player mode. We at VGChartz can't wait to see what the sequel looks like in its final form when it ships next year. If it's anything like the E3 2010 build, then we can consider ourselves very happy.
Check out our full E3 Preview here.
Wii Party
The first mode, and the only one I had a chance to play, resembles the Mario Party series. Four competitors (comprised of human players and computer characters if there aren't enough human players) compete on a board-game overworld. Each round order is determined by a mini-game, and advancement is made by rolling dice. The higher you place in the mini-game, the better your second die will be. The mini-games are pretty standard for the Mario Party series, but they remain fun. Bumper Balls has been updated with motion controls and has become a faster and more frenetic game. The Board Game mode is a fully realized party game by itself, but according to Nintendo there is more.
Check out our full E3 Preview here.
EA Sports Active 2
The hardware you receive will be dependent on the console you purchase it for. The Playstation 3 will have three sensors (two will strap to your arms and one to your leg), the Wii will have ship with two sensors (one will strap to your arm and one to your leg, the Wii remote will be the sensor for your other arm). As for the Xbox 360, it will not ship with any sensors; instead it will require a Kinect. EA Sports Active 2 is the best at identifying and communicating exercise routines I have seen since 'exergaming' became a genre.
Check out our full E3 Preview here
Star Wars: The Old Republic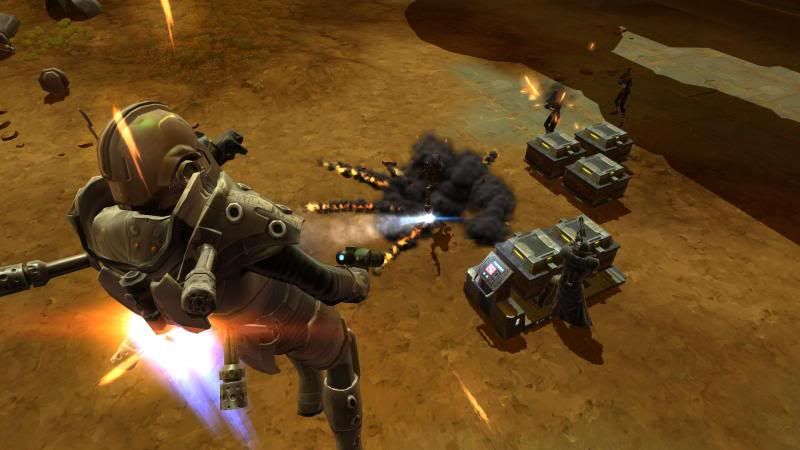 Star Wars: The Old Republic has us more interested than any MMO we've ever seen. The combat looks promising if the glitches are ironed out, every player's decisions affects the galaxy, and the voice acting is just superb. After the debacle with Star Wars Galaxies, we had a bad feeling about this when LucasArts announced a new MMO in the series. However, what we saw, despite some flaws, left us thoroughly impressed and wanting to play more. The force is strong with this one.
Check out our full E3 Preview here.
LIMBO
Playdead Games is a small team consisting of eight core members (16 members at its peak), and LIMBO proves that these small studios can show the mega-developers how a single simple vision can speak volumes. This title is a downloadable game that will release at 1200 MS points, like all 'Summer of Arcade' games, and its more polished than some of the Xbox 360's full retail offerings. The visuals, the sound, and the gameplay are all great tastes that taste great together, and there's no HUD, no score, no health bar, or any of that traditional gaming stuff to get in between you and the very unique, creepily atmospheric experience.
Check out our full E3 Preview here.
Child of Eden
Child of Eden rocketed to the top of our list with a stunning trailer that sadly went almost completely unnoticed because it was only shown once the entire show, and that was at the Ubisoft conference. The game was nowhere to be found on the floor or in either the Move or Kinect booths, which is disappointing as it seems to be one of the most impressive applications of either device. Fortunately for you, VGChartz is here to save the day, getting the word out on this gorgeous and artistic game from Tetsuya Mizuguchi, one of the most talented designers in the industry. Be sure to check out the trailer in the link below, and see why we feel this easily deserved best visuals.
Check out the trailer for Child of Eden here.
Child of Eden/Kid Icarus: Uprising
Tetsuya Mizuguchi is making another game? What's that you say? It's another rhythm action game? Yes please! Child of Eden takes a second award, but shares the spotlight on this with the shocking announcement of Kid Icarus: Uprising. A new Kid Icarus game has long been rumored, but no one expected it to be a 3DS launch title, or for it to look so great! These two shocks managed to tie for our award, as picking just one of them would have torn our team apart, so congratulations to both of you for giving us the kind of surprises we look for at E3!
Check out the trailer for Child of Eden here.
Check out the trailer for Kid Icarus here.
Kirby's Epic Yarn
There were a lot of innovative new titles this year, and we started to notice a trend: many of the hottest new gameplay features involved changing the game-world while playing within it. This was the case with Disney's Epic Mickey and its paint thinner, Shaun White Skateboarding with its mid-grind rail-creation, and even Ivy the Kiwi?'s ability to draw, rotate, and stretch platforms all over the map while running all over them. But it was Kirby's Epic Yarn and its perfect marriage of visual innovation and gameplay innovation that stole the show for us. If a jump is too far to make, you can pull the other side towards you with your whip. If a secret is too high to reach, you just grab some of the cloth background with your whip, and pull the whole sky down a little bit. We never thought we'd see such crazy sci-fi concepts as "space-folding" ever look so cute and cuddly, but it just works.
Check out our full E3 Preview here.
Need for Speed: Hot Pursuit
Despite consistently solid sales, the Need for Speed franchise hasn't really shined since the Most Wanted back in 2005. Criterion captured the hearts for race gamers and critics alike with Burnout Paradise and it set to do it again with the Need for Speed IP. The game handles much like Burnout Paradise, though the cars had a big more weight to them so the cars had more reactive control. The game is very fast. NFS: HP creative director, Craig Sullivan, told us he didn't see the point in including slow or low-end cars. This leads to a big collection of rare and very high-end machines.
Check out our full E3 Preview here.
Need for Speed: Hot Pursuit
While the gameplay was great, it wasn't even the best part. Criterion is hard at work building a type of social networking right into Need for Speed: Hot Pursuit. Sitting on the main menu (sorry, no pictures allowed), notifications come falling down the screen of what your friends have been doing in the game since last you logged on or even while you were in your last race. This new system is called "Autolog." You can easily see when a friend has broken your record time or high score and immediately choose to challenge it through an intuitive recommendation system. Best of all, all this sharing doesn't require you to log into Facebook or Twitter so you don't have to pester your non-gaming friends with all your newest Hot Pursuit accomplishments.
Check out our full E3 Preview here.
The Legend of Zelda: Skyward Sword
It was an incredible E3, full of incredible games, and the debate over what should recieve our highest honor of the show was lengthy and brutal. So why did Zelda, despite being so clearly incomplete, win it? It won on gameplay alone. The Legend of Zelda: Skyward Sword has some of, if not the best motion controls on Wii. Nintendo really nailed it on this one, and delivered on all the anticipation of millions of fans for a sword fighting game with 1:1 controls. It's simply incredibly fun to play, and an experience that we didn't find anywhere else. The Legend of Zelda: Skyward Sword is our Game of the Show!
Check out our full E3 Preview here.
Related Articles