Seb Parker
, posted on 30 January 2011
/ 7,656 Views
Here we see data representing the global sales through to consumers and change in sales performance of the three home consoles over comparable periods for 2008, 2009, 2010 and 2011. Also shown is the market share for each of the consoles over the same periods.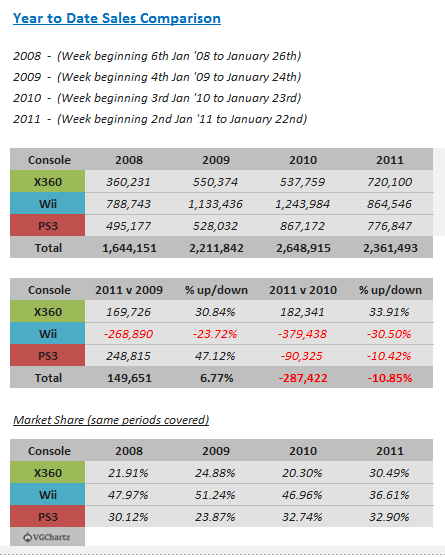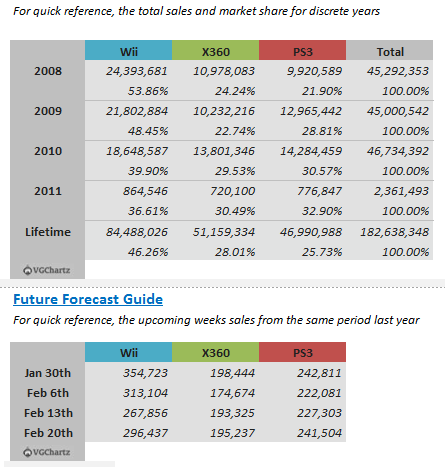 "Year to date" sales for 2008, 2009, 2010 and 2011 sales are shown in series at the top of the table and then just below a comparison of 2011 versus 2009and 2011 versus 2010 is displayed. This provides an easy-to-view summary of all the data.

Xbox 360 - YOY up this week 54k , up YTD 33.91%

Kinect should help X360 finish January over 30% up YoY. With stock issues reportedly starting to dissipate, 360 should only fall slightly in February.

PS3 - YOY down this week 17k, down YTD -10.42%

PS3 enjoys more small drops YoY, now down below 20k. It should finish January with over 1 million units, only slightly down from 2010, and a massive improvement over 2009.

Wii - YOY down this week 131k, down YTD -30.50%

Wii experiences another hefty drop this week, staying above the 100k mark. Wii should finish January over 500k down YoY; not a good start to the year. Overall it looks to be dropping much faster than PS3 and X360, and should fall behind in overall yearly sales pretty soon.
Related Articles