Alien: Isolation, Batman: Return to Arkham, More Coming to Xbox Game Pass - News
William D'Angelo
, posted on 20 February 2019
/ 639 Views
Microsoft has announced more titles are coming to Xbox Game Pass this month. The list includes Alien: Isolation, Batman: Return to Arkham, Disney Epic Mickey 2: The Power of Two, Headlander and The Walking Dead: Season 2.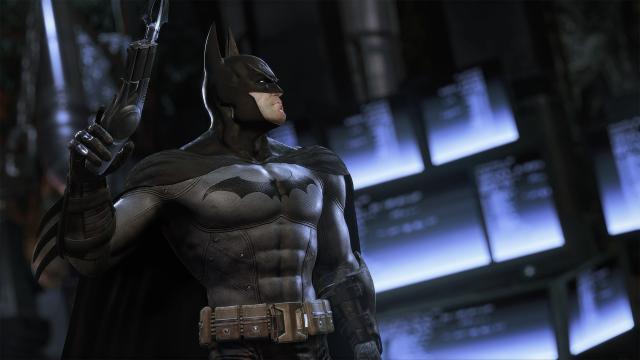 Here is an overview of the upcoming games:
Batman: Return to Arkham (February 21)
Batman: Arkham Asylum and Batman: Arkham City, the first two games in the iconic Batman Arkham series, are coming to Xbox Game Pass in this comprehensive compilation that includes the definitive edition of each game, complete with all post-launch downloadable content. In Batman: Arkham Asylum, journey into the depths of Gotham City's high security psychiatric hospital and battle supervillain inmates who have taken over the Asylum. Then go soaring into Arkham City, a super-prison built to contain Gotham's worst criminals in Batman: Arkham City, one of the most critically-acclaimed games of all time.
Headlander (February 21)
Have you ever looked at the glass head in a jar on those retro-futuristic TV shows and thought, "What would that be like?" Look no further my friends. In this 2.5D metroidvania-style game, you are the last known human (well, human head) in the universe. You're suffering from amnesia like anyone might do if their head was stuck in a jar I suppose, but you do have lasers and beams to attack and yoink the noggins off of robots and put your own there to take over the body. Explore rooms, solve puzzles, defeat hostile machines, and discover what has happened since humanity uploaded their minds into the cloud…
Disney Epic Mickey 2: The Power of Two (February 21)
Unleash the power of the brush in this co-op adventure with Mickey Mouse and Oswald in Disney's Epic Mickey 2: The Power of Two! With paint brush and remote control, Mickey and Oswald visit the alternate magical world filled with music, forgotten Disney characters, and attractions. Forever change the Wasteland in this heroic adventure where your "PlayStyle Matters", and you can conduct your own unique soundtrack to this magical world, and truly save the Wasteland.
The Walking Dead: Season 2 (February 28)
A horror-themed adventure game where your every choice could determine the fate of young survivor Clementine. Following the harrowing events of The Walking Dead: Season 1 (available now with Xbox Game Pass), Clementine is now alone in a world ruled by the undead. Experience the unique perspective of playing as a child in the apocalypse, where you'll have to outsmart what you can't fight. Explore gorgeous comic book style environments, survive harrowing action scenes, crack puzzles, and decide who is friend or foe. Every choice is on the clock, every call is yours, and the consequences will follow you to the very end. With control over her story, what horrors will you let Clementine witness, and what kind of person will she be in the end? In anticipation of the The Walking Dead series finale, download and play with Xbox Game Pass the second season of Clementine's journey in the undead apocalypse.
Alien: Isolation (February 28)
Experience the modern horror classic that captured the core of the Alien movies and won over 50 Game of The Year awards. Ellen Ripley's daughter, Amanda, is trapped aboard Sevastopol space station while an unseen threat lurks, stalking and killing the remaining survivors from deep in the shadows. Hunted by this terrifying creature, Ripley must find some way to escape the station where every breath and movement could be her last. Developed by Creative Assembly in partnership with 20th Century Fox, Alien: Isolation is the perfect distillation of gut-wrenching fear and survival horror.
---
A life-long and avid gamer, William D'Angelo was first introduced to VGChartz in 2007. After years of supporting the site, he was brought on in 2010 as a junior analyst, working his way up to lead analyst in 2012. He has expanded his involvement in the gaming community by producing content on his own YouTube channel and Twitch channel dedicated to gaming Let's Plays and tutorials. You can contact the author at wdangelo@vgchartz.com or on Twitter @TrunksWD.
More Articles
There are no comments to display.