Call of Duty: Black Ops II (X360) - Review
VGChartz Staff
, posted on 22 November 2012
/ 4,232 Views
Like a loaf of bread sitting in a cupboard, the Call of Duty franchise has grown stale over time. What was once new, bold and exciting had become predictable, tedious and sorely lacking in innovation. The problem was that the developers behind the franchise didn't need to take any risks, because the games would sell regardless. It was a shame to see such a huge franchise become stagnated by its own success. This year though, things are a different. Treyarch took a risk with arguably the world's biggest franchise. In doing so they have breathed life back into the series, and have created one of the best Call of Duty games to date.
The campaign in Call of Duty: Black Ops II follows on from that of its predecessor, and it's without a doubt one of the strongest aspects of the game; I never thought I'd see myself write those words about a Call of Duty game anytime soon. The story sees you piece together clues from the past and the present in order to take on a terrorist known as Raul Menendez. This allows Alex Mason and Woods to return from the first Black Ops, with Alex's son, David taking centre stage during the future missions. This isn't your typical 'stop the clearly evil bad guy and save the world from certain doom' affair though. I'm not going to divulge any plot details here, because this story deserves to be enjoyed from an entirely fresh perspective. Just know that when I tell you Treyarch have crafted perhaps the smartest, most mature and thought provoking Call of Duty yet, I'm not speaking anything other than the truth.
A brilliant story can help support a fantastic game, but without other equally good elements supporting it, a game will fail to reach truly great heights. Graphically, Black Ops II wont surprise you. Call of Duty stopped blowing people away a few games back, but that isn't to say that the games don't look good. Missions set in the past do appear noticeably more dated than the future missions. It's in these future missions that the game really looks at its best. Locations are varied and unique and colour is used to great effect. The soundtrack to Black Ops II has been composed by Jack Wall, the mastermind who also created the music for Mass Effect 1 and 2, and it captures the tone of the game perfectly. Treyarch couldn't have made a safer bet here, and as you'd expect it's paid off.
Let's talk about how Black Ops II plays then. The shooting mechanics and controls are as tight as ever. Make no mistake, this feels like a Call of Duty game straight from the get go and no one will encounter any problems in this department. These things are expected though, and don't set Black Ops II apart from any game in the franchise.
What does set Black Ops II apart are some brand new gameplay mechanics. In Black Ops II you'll be able to customise your loadout before missions. It is essentially create a class for campaign, which is an idea so simple you wonder how it hasn't been done before. All of the options that are available in multiplayer create a class are present, without any of the restrictions. This element allows you to play the campaign in any way you want – while some guns are clearly going to be more suited to certain missions –there's nothing to stop you from doing it your way.
When you finally jump into the campaign you'll see that levels in Black Ops II are more open than in previous games. The best way to describe them would be to draw comparisons to Halos sandbox style levels. While the levels in Black Ops II aren't on the same scale as those found in Halo, they do allow for more freedom, exploration and tactical application during gameplay. In addition to the campaign missions, you'll also be able to undertake optional 'Strike Force' missions. These missions, while optional, will have an impact on the outcome of the story, so completing them is recommended.
During Strike Force missions you must take control of, and command, various units. You can do this from a first person perspective or from a top down perspective by using your drone. You'll only have a certain amount of units at your disposal and once they are gone, they are gone. At first glance it appears that Strike Force missions will provide some truly tactical gameplay. However, whilst the idea is a commendable one, it is poorly executed. You see, Strike Force missions present one of the game's biggest problems. Directing units around the maps can be a real pain, and it's nigh impossible to utilise your units in a tactical and productive manner. I generally found myself waiting for my units to die, and then approaching the mission as I would a normal campaign level. If these missions didn't impact the story so much it wouldn't be such an issue. Yet they can have a huge impact on the outcome of your game, so even though I can applaud what Treyarch is trying to do here, I can only be frustrated at the lack of execution.
The most defining gameplay feature of Black Ops II is without a doubt the new choice system. Throughout missions you'll be presented with choices, big and small, that can affect the outcome of that specific mission, and the entire game. For the first time ever in a Call of Duty game there are several endings, and choices you make throughout the game will decide how your game plays out. Some of these choices are pushed on you, whilst some are more subtle, but all of them combine to create a highly engaging experience that – dare I say it – you'll become invested in.
When all is said and done though, after the single player is over, you'll be staying for the multiplayer. You'll be pleased to know that Black Ops II won't let you down here either. Multiplayer is still the same Call of Duty experience that we've become accustomed to over the years. All of your favourite game modes are still there, with the addition of a hectic multi-team mode. You can still unlock skins, prestige, and create obscene emblems. Yep, it's the experience we all know and love, but there are a few important tweaks here and there.
In order to help players who are new to the dog eat dog world of Call of Duty, Combat Training has been improved this time around. A mode called 'Boot Camp' has been introduced, allowing players to face other humans and bots in games of Team Deathmatch without worrying about having their statistics affected. Once you have reached level 10 in this mode, you will be capped and cannot progress any further. Hopefully by then you'll have enough courage to take your first tentative steps onto the real battlefield. If you need a little more encouragement though, you can go and play through the Objective mode in Combat Training. Here you can continue to rank up beyond level 10, however you'll only gain half of the XP that you'd earn online. That's Treyarch's way of telling you to get out there.
A big change that some will love and others will hate is the replacement of killstreaks with scorestreaks. In Black Ops II you'll be rewarded for scoring points in a single life. The more points you score in a life, the more of your scorestreak rewards you'll unlock. The idea behind rewarding score instead of kills is that it will hopefully make players focus on completing the objectives at hand, thus making the overall online experience much more tactical, focused and competitive. Of course, only the top players will be able to acquire the best scorestreak rewards, so don't worry, your immense skill will still be rewarded handsomely.
The biggest change to multiplayer comes in the form of a new create a class system. This new Pick 10 system opens up a wealth of options, allowing you to tailor your class to fit your exact needs. You are given 10 slots that you can fill up with literally whatever you want. Fancy giving yourself 6 perks and a main weapon? Yeah, you can do that. Don't use your secondary weapon all that often? Get rid of it and add another attachment to your primary weapon. Love your grenades? Go ahead and give yourself a couple more of those pesky blighters. The Pick 10 is revolutionary to the point where I don't think I could go back to playing a previous Call of Duty. It's simply that good.

If you have the urge to get social all of a sudden, Black Ops II has you covered. Let me set the scene. You're playing some League Play games and crushing the opposition like the puny noobs they are. You want to share this with the rest of mankind. This wasn't easily achieved in previous Call of Duty titles, but now it's as simple as linking the game to your YouTube account and streaming away. Sharing your combat prowess has never been easier.
When you feel like letting off some of the frustration that will inevitably build up by playing online (hey, don't sweat it, I know you're better than the guy who just kicked your ass 5 times in a row) just turn to Zombies mode and let all that anger out.
There are 3 different ways to play Zombies in Black Ops II. The out and out best Zombie mode is that of Tranzit. This is a new mode that aims to inject some light narrative into the zombie apocalypse. In Tranzit mode you're still tasked with fighting off wave after wave of those brain-munchers, but this time you'll be shuttled to various locations by a robotically driven bus. This mode encourages exploration and experimentation, whilst also offering a sense of freedom that hasn't been seen before in previous Zombie modes. It's an absolute blast to play, and therein lies the biggest problem.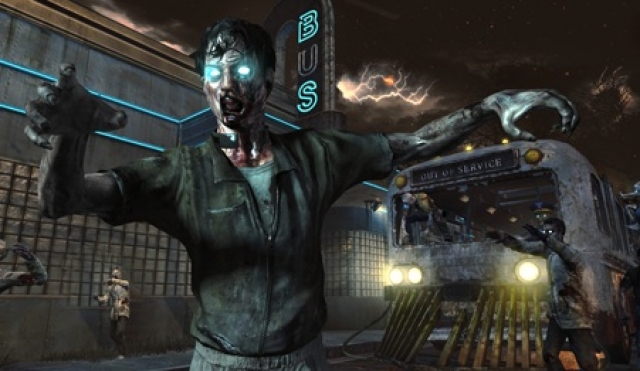 Tranzit mode is so good, that it almost makes the other two modes redundant. Classic mode is still there, yet it feels too confined and linear now. The final mode is a competitive mode called 'Grief' in which one team of four and another team of four are tasked with out lasting each other. You can't directly harm the other team, although you can hinder their survival by trying to stop them from reviving downed team members, or by hurling meat at them to transform them into walking zombie bait. These modes aren't bad, and more choice is always a good thing, but Tranzit really does steal the show here.
Call of Duty: Black Ops II is a leap in the right direction for the franchise and is the most fun I've have with Call of Duty since the original Modern Warfare. If you're a fan of the series then you'll definitely want to pick this one up, and if a lack of innovation has driven you away from the franchise, this is the perfect time to give it another chance. It's Call of Duty all right, but not as we know it.

This review is based on an Xbox 360 copy of Call of Duty: Black Ops II.
VGChartz Verdict
8.9
8.0
8.5
9.0
More Articles
There are no comments to display.