SCEA Offering $20 PSN Cards as Part of Vita Referral Program - News
Brent Galietti
, posted on 27 January 2013
/ 2,565 Views
Do you have a PlayStation Vita? Does someone you know have a PlayStation Vita? Have you lamented the lack of Vita sales in the United States and wished more people had a Vita? Sony feels the same way and they want your help to change that! From now until February 28th, if you can convince someone to buy a Vita, Sony will reward you with a $20 PlayStation Network card and 1,000 Sony Rewards points. (The new Vita owner will also receive a $20 PlayStation Network card.)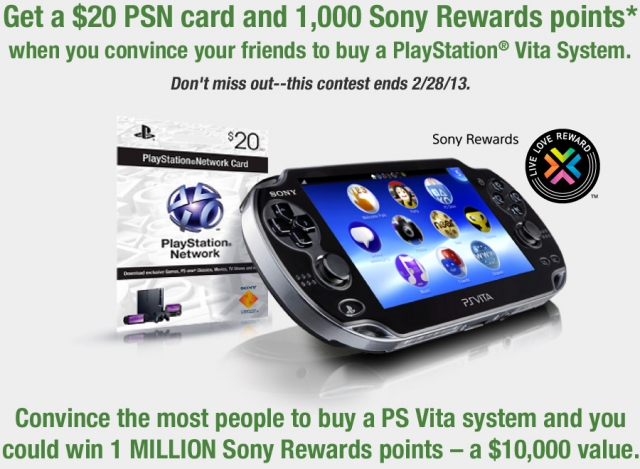 If you're really eager to get Vitas into the hands of everyone you know, Sony has another reward for you! Whomever convinces the most people to buy a Vita during the contest's timeframe will win 1 million Sony Rewards points. That's $10,000 worth of Sony Rewards points! And who doesn't love $10,000 worth of stuff?
Source: [Sony (uRefer)]
More Articles
There are no comments to display.