Worms: Clan Wars Combines Classic Gameplay with Fresh Ideas - Preview
VGChartz Staff
, posted on 25 June 2013
/ 2,232 Views
Whenever you sit down to play a Worms game you know what you're going to get. It's like going to the same restaurant over and over again, and ordering the same meal because you know it's a safe bet. Sure, it will be a nice experience, but it won't blow you away like it did when you first tried it. Worms: Clan Wars aims to break out of that comfortably good rut, and become the definitive Worms experience. An admirable goal, but one that will be difficult to accomplish.
Clan Wars is being developed from the ground up exclusively for the PC market. That's a choice that might irk a few console gamers, but ultimately it's a choice that allows the team to focus on making their ambitions a reality. As you may have guessed, the feature being talked about the most is the inclusion of clans, and as we all know, the clan community thrives in PC gaming. However, before we talk about that, let's get the obvious stuff out of the way first.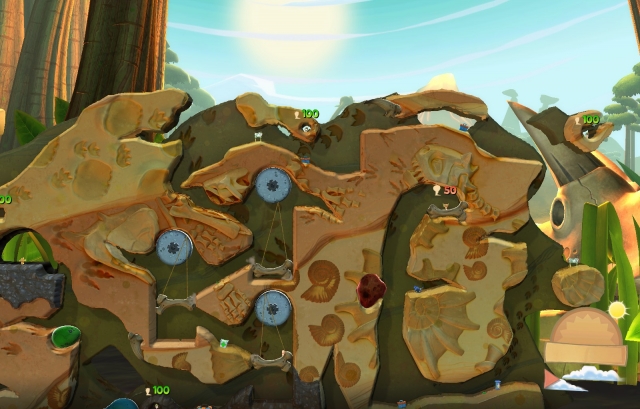 Worms: Clan Wars is a 2D worms game that will feel instantly familiar. You'll still be using a number of hilarious weapons to ruthlessly murder any and all worms that stand between you and victory; you'll still laugh at the ridiculous things that your worms will say, and you'll still be god-awful at using that Ninja Rope. More importantly, though, you'll still be throughly entertained. The classic 2D Worms gameplay was never broken, and it definitely doesn't need tampering with.
Team 17 have realised this, and they've decided to channel everything good about the franchise into a new game, whilst simultaneously pumping new life into it via new avenues. You'll notice that there's now a day and night cycle present that adds even more variety to the franchise's consistent charm. The four worms classes that were introduced in Revolution have also been improved with the addition of new abilities, allowing you to tailor your team of worms to suit your own style of play.
Clan Wars has an all new physics engine that makes the worms' greatest enemy more dangerous than ever. That's right, water is back with a vengeance. It will now appear on, and flow through maps, creating hazards for worms even on land. If you're smart enough you can use it as a weapon by manipulating bodies of water and by harassing the enemy worms with the all-new water based weapons. It might seem like a small addition, but it adds a fresh, tactical layer to proceedings.
Now, let's talk clans. In Worms: Clan Wars you'll be able to create your very own clan, with the ultimate aim of becoming the most recognized, bad-ass group of worms in the business. This isn't just some cheap shoe-in though. The Clan system aims to be deep, complex, and rewarding. You'll be able to name your clan, and design your own emblem; promote members, allowing them to act as leaders or sub-leaders; and compete with other clans in leagues, and competitions. Keeping in contact with your clan members, and even your adversaries, should be a breeze thanks to the game's new chat and lobby system, WormNet. There will also be a companion app, and more stats than you can shake a stick at, allowing you to analyse what you're doing right and what you're doing wrong.
Team 17 have also realised that PC gamers are a rather creative bunch. They've decided to help you scratch that creative itch by adding Steam Workshop integration. So, if you want to build maps or customize your worms, you can go ahead and frolic in the field of endless creative freedom. Just remember to close the gate, we don't want the Super Sheep escaping.
Maybe you're not interested in online multiplayer though. Well, fear not, there will still be plenty of content geared towards you. Local multiplayer remains, because quite frankly there's nothing quite as sweet as gloating in person, and you'll still be able to battle against the computer to your heart's content. There will even be a more fleshed out single player 'story mode', written by a BAFTA award winner, that features physics based contraptions and puzzles.
You'd be right in thinking that it all sounds very impressive, and if Team 17 can realise their sumptuous vision, Worms: Clan Wars has the potential to be the best Worms game to date.
More Articles
There are no comments to display.