Metrico (PSV) - Review
Karl Koebke
, posted on 16 August 2014
/ 2,295 Views
I tend to split puzzle games into two broader categories: ones in which the rule set remains the same and the circumstances change to provide new challenges (think Tetris), and ones in which the rule set or tools change without warning and you are forced to experiment to discover the solution. The latter category includes some of my favorite puzzle games, such as Braid, Portal 2, and The Unfinished Swan. Metrico definitely falls into this category and I was hopeful that it would join my list of favorites. It's certainly bursting with experimental gameplay ideas, but technical issues hold it back from puzzling perfection.
Metrico is instantly recognisable thanks to its striking visuals, where a simplistic character design is set starkly against a background of varied graphs. I love the game's presentation style but technical issues abound, like large framerate drops and annoying bugs (most notably one bug which caused a particular puzzle to be inconsistent in its responses). There's also a notable over-reliance on bar graphs for obstacles over and above any other type of metric, which is perhaps understandable but also makes for quite dull foregrounds.
As I alluded to in my introduction, Metrico's greatest asset is its commitment to the idea of experimentation and the use of metrics to inform the player. Puzzle elements can be affected by any number of different player actions, so one platform might move to the left and right when the player does, but only when you're on the ground, or a column might go up as you kill enemies or respawn. The scientist in me loves this as a concept because each new screen is a chance to mentally explore and experiment as you try to uncover the rules for a particular obstacle. What makes this work is that every obstacle you can interact with comes with a number that essentially provides you with a hint. This can be a simple fraction or a percentage, but what it does is help you understand what you're doing to trigger the obstacle's movement. Adding in conditions like killing yourself in different ways which become more and more abstract and don't follow standard video game logic is especially interesting.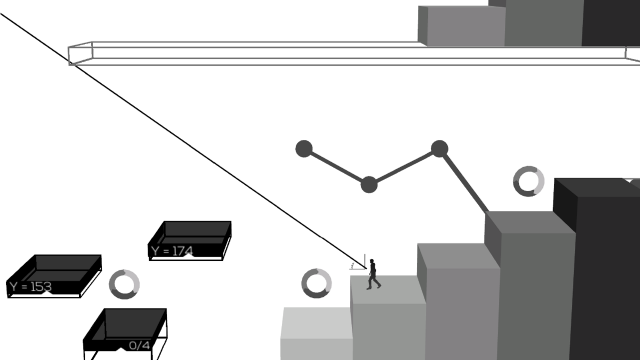 The downside to Metrico's gameplay design is that it eventually plumbs too far into the depths of what the hardware is capable of in its aim to keep things new and engaging. Often this works out for the best, like the aforementioned suicidal puzzles or when the game maps platform movement to the overall position of the Vita in space, but it isn't always for the best. For example, mapping the aiming of projectiles to the back touch screen seems like a ridiculous decision when you have a usable (and free) right analog stick which doesn't cause as many accidental missed shots. Later puzzles also try to use the Vita's camera, but it simply doesn't have the precision required for much beyond sensing light intensity. When the conditions for puzzles approach things more complicated than light intensity things quickly fall apart. Lastly, an aforementioned bug made it nearly impossible for me to overcome a certain obstacle because it caused inconsistencies in the puzzle's own behaviour.
My 2.75 hour playthrough of Metrico was actually quite enjoyable, but it's a victim of its own unique design. Perhaps if the developers had been able to come up with a handful of more creative puzzle conditions without delving into obscure hardware functionality this would have been a great puzzle game, but as it stands it's a good game that tries to take its concept just that little bit too far. I can't fault Digital Dreams for trying, though, so I wish them the best on their next venture.
This review is based on a digital copy of Metrico for the PSV
VGChartz Verdict
7.0
7.5
8.0
5.5
More Articles
There are no comments to display.